These are 9 Trees with Fern-like Leaves [Pictures & Details]
Have you noticed any tree that possesses leaves like fern?
From the very beginning, people search for similarities in different species, trees and other subjects.
Different tree species have different types of foliage. But sometimes they are matched with one another. In this article, we have mentioned some tree species which have fern-like leaves.
Mimosa or silk tree
Boxwood tree
Bald cypress tree
Royal poinciana tree
Honey locust tree 
Velvet mesquite tree
Copper pod tree
Fern-leaved wattle tree
Japanese fern tree
Do the trees having fern-like leaves resemble the whole plant or just in the case of leaves? You will also get the answer to this question from here.
Then, let's start.
How are the fern leaves?
To compare with the fern leaves, knowledge about them is essential.
Some specific points such as shape, color, surface quality, margin, petiole- these characteristics entirely describe a fern leaf which is optionally called a frond.
Color- Gentle green color.
Petiole- The stalk which connects the leaf to the stem is called a petiole. The leaves are long petiolate. 
Leaf-blade- Leaf blade means the surface of the leaf. The surface is not waxy and is a little rough.
The leaves have leaflets too. They are arranged in the midrib. The frond tip is called the apex.
Leaf shape- It is almost linear in shape.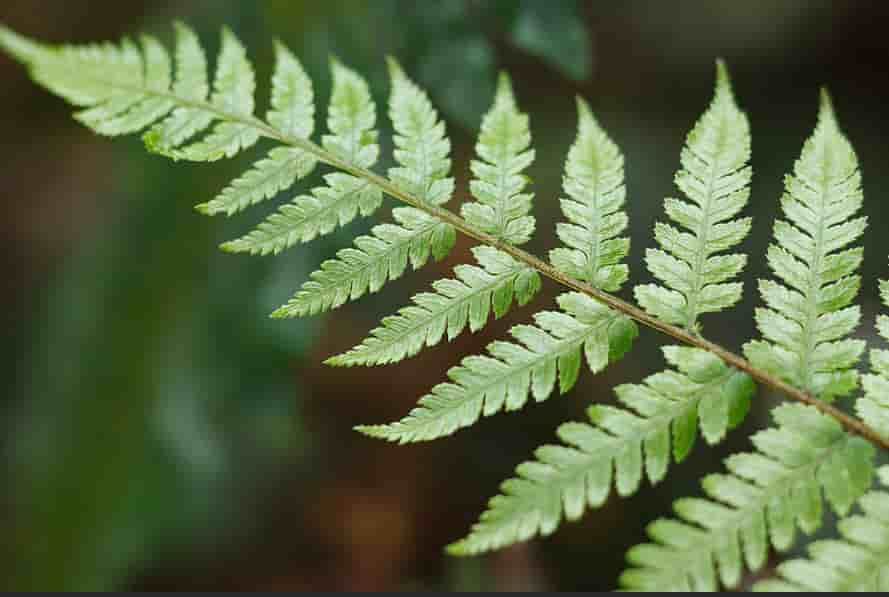 Sometimes, spores are produced in the fern leaves. They are necessary for the reproduction of the fern plant. 
Which trees have fern-like leaves?
You will be astonished to know that there are some trees whose leaves resemble fern leaves.
Some perennial trees growing in different climatic positions may exhibit such similarities. They can grow in water-stagnant conditions, deserts or cool regions.
Let's know about them. 
Silk tree or mimosa
The Mimosa tree originated from the Asian region. Now it is widely found in the United States, Italy etc. Its, 
Scientific name- Albizia julibrissin.
Common name- Silk trees, Persian silk tree, pink silk tree, mimosa.
Plant type
It is a fast-growing deciduous tree. Its 
Height- Around 10-50 feet.
Width- Around 20-50 feet.
Average life span- 30 years.
Stem
The stems are so weak that they can be broken by strong wind or storms. Snow and ice can damage them.
Leaf
As previously said, leaves are fern-like that are closed at night as well as when they are touched.
Flower
Its blooming time is from May to July. The flowers are around 1.5 inches long and they are like pom poms like clusters with a beautiful fragrance.
Fruit
Flattened legume fruits emerge in June and mature in August. Each fruit contains 5-16 seeds.
Jacaranda tree
Jacaranda is a tree genus commonly found in the West Indies. It belongs to the "Bignoniaceae" family.
One of Its scientific names is Jacaranda caerulea. It is also known as the cancer tree or boxwood tree. 
This plant symbolizes rebirth, wisdom and good luck. 
Plant type
The boxwood tree is a deciduous tree that grows up to 39 feet (12m). They can tolerate high temperatures. 
Stem
The shoots are branched. Barks are brownish in color and thin.
Leaf
The leaves are bipinnate in shape and are 40 cm long. The fern-like leaflets, called the pinna, are 8 to 26 in number.
Flower
Florida, Cuba and the Bahamas wait for a big purplish-blue flourishment every spring and summer. 
This tubular blue structure is the 3.5 cm long boxwood flower produced in panicles.
Fruit
Fruits are capsules containing many seeds which have an oval shape.
Bald cypress tree
Bald cypress is a hardy tree native to the southeastern United States. It is called hardy because of its adaptability to any kind of soil and weather. Its,
Scientific name- Taxodium distichum
Other names- White cypress, swamp cypress, gulf cypress, red cypress, tidewater cypress etc.
Plant type
Bald cypress is a deciduous conifer plant. It is a large tree that is slow-growing. It is a long-lived plant.
The plant height is around 10-40 meters.
Stem
The trunk diameter of the bald cypress is 3-6 feet. The trunk is reddish-brown with a stringy structure.
Leaf
Leaves are around ½ to ¾ inches long. They are green-colored and alternate.
Flower
The flowers are tassel-like generally produced in the October-November months.
Both male and female flowers are produced.
Fruit
The fruit is a round cone. Seeds are hard to separate from the fruits. They should be harvested before opening.
Royal poinciana tree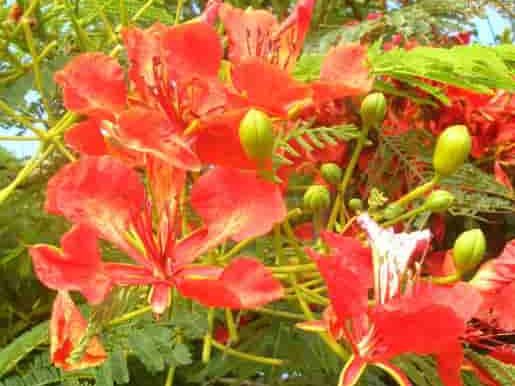 This is an ornamental tree that originated in Madagascar. Its 
scientific name- Delonix regia
Other names- Flame of the forest, Flame tree, Flamboyant etc.
The plant belongs to the Fabaceae family.
Plant type
Royal Poinciana is mainly a flowering tree. It drops out its leaves in winter.
Its height is near to 40 feet. It is a fast-growing tree that can grow up to 5 feet in a year.
Stem
Its canopy spread is around 60 feet. It has many branches and it is a flat-crowned tree.
Leaf
The leaves are around 30-50 cm long. Around 20-40 pairs of leaflets are arranged in a leaf. The color of the leaves is dark green.
Flower
Flowers are orange-red colored and large in size. Some varieties like flavida exhibit yellow-colored flowers. 
The blooming occurs in summer.
Fruit
The fruits are pods that possess dark brown color and are woody.
Seeds are small and light in weight.
The honey locust tree
The honey locust tree is a highly adaptable tree that can survive in aggressive situations.
Scientific name- Gleditsia triacanthos
Other names- Thorny locust.
Its origin is North America. Its special characteristic is it can complete its life cycle in various climatic conditions.
Plant type
Honey locust is a fast-growing plant. Its,
Matured height- Around 20-30m.
Average life span- 120 years. 
It is a deciduous plant.
Stem
The trunk is branched and thorns are present there. They form a dense cluster by their foliage spread.
Leaf
The leaflets are 1.5-2.5 cm long. The leaves are dark green which turns into yellow in Autumn.
Flower
Flowers are not so significant in honey locust trees. They are very small and not showy.
Fruit
The fruit pods mature in Autumn. The pods are between 15-20 cm. Fruits are called legumes.
Velvet mesquite tree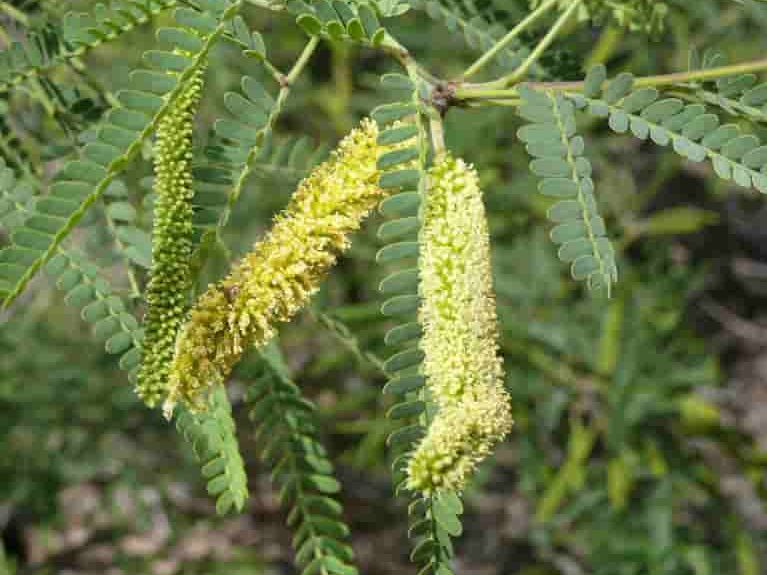 The velvet mosquito tree is completely from the opposite region of the above-mentioned trees.
It is grown widely in the desert area. Chihuahuan desert located in Mexico is its origin. Its scientific name is Prosopis velutina.
Plant type
This is a medium-sized plant. It can grow up to 9-15 m (30-50 ft). It is a deciduous tree.
Stem
The young bark of the tree is reddish-brown. Gradually it turns dark brown and a shredded texture is formed.
The young bark consists of thorns.
Leaf
The leaves are dark green colored which are closed or folded at night. They are 3-5 inches long.
Flower
The flowers are yellow. They are seen in summer. They are 10 cm long and formed in clusters. 
Fruit
Bright green seed pods come from the greenish seeds.
Copperpod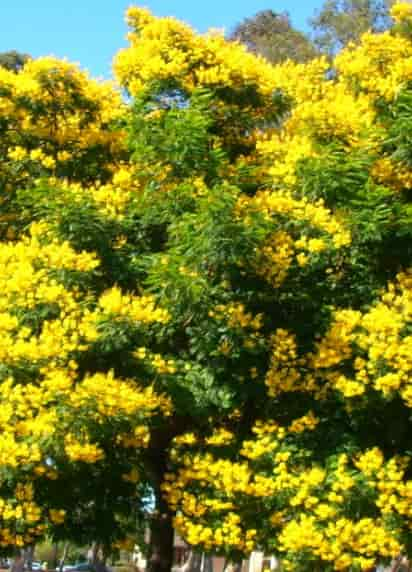 Copperpod is an ornamental tree planted for enhancing the beauty of a house or locality. Its scientific name is Peltophorum pterocarpum.
This is a plant of the Leguminosae family. It is first found in tropical southeast Asia.
Plant type
The plant height of copper pod trees is around 15-25 m. It can rarely grow up to 50 m.
Stem
Its trunk diameter is up to 1 mm. There are many branches in this tree.
Leaf
The leaves are dark green. They are around 30-60 cm long. The leaflets are oval-shaped and they are around 20-40 in pinnae. The leaflets are 8-25 mm long.
Flower
Flowers are normally yellow which are 2.5-4 cm in diameter. The flowers have emerged in a raceme which is around 20 cm long.
Fruit
Red-colored fruits are seen in copper pod trees. The fruit color gradually turned black after maturity. The fruit type is pod and it is 5-10 cm long.
Fern-leaved Wattle Tree
Acacia filicifolia is the tree of the fabaceae family which is the scientific name of fern leaved wattle. 
It is native to Australia but widely found all over the world.
Plant type
It is sometimes considered a shrub. At maturity, they take the form of a tree. The height is around 3-14 m.
Stem
The dark grey or dark brown bark is found when they are matured. The smaller branches are cylindrical 
Leaf
The rachis of the leaves is about 40-120 mm long. There are 5-14 pairs in pinnae. The smallest leaf blades are around 4-10 mm long which are oblong to linear-shaped.
Flower
Gentle Yellow or bright yellow-colored wattle flowers always make their appearance in spring. The inflorescence or the position where flowers are arranged is a panicle.
Blooming is initiated in late autumn. 
Fruit
The fruits are called legumes. They are 35-130 mm long. The pods are normally straight or sometimes flat.
Japanese fern tree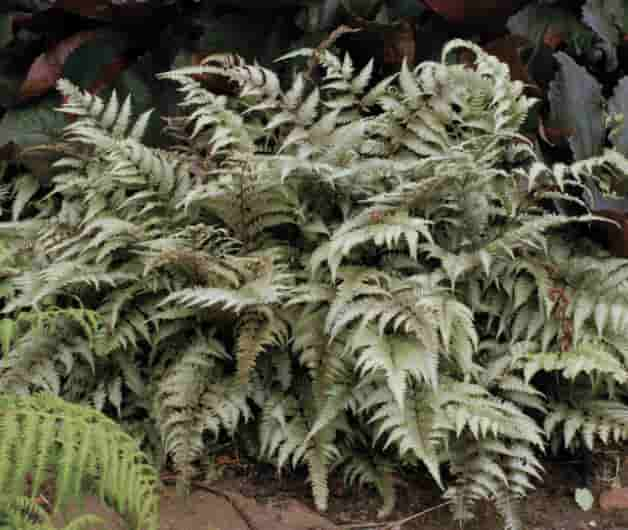 A Japanese fern tree is a bushy tree that creates a globe shape if pruning and training are done properly. 
It is one kind of shade tree. Its 
scientific name is Filicium decipiens.
Other names- Thika palm, Pihimbiya
They originated from East Africa and South Asia.
Plant type
The tree is of small size. It is around 20-25 feet. It is a slow-growing tree.
Stem
The trunks are not as thick as large trees. The crown of the trunk is oval-shaped. Brownish color is found in the bark.
The leaves are bright green.
Flower
The flowers are normally white in color. They are small-sized. Generally, they emerged as clustered.
Final thoughts 
We have to wrap up now as our discussion is at the endpoint. But the beautiful and mysterious nature is always prepared to initiate newer varieties. 
All of a sudden, you may meet a new species that will remind you of some other trees.
The previously mentioned trees are just like them. Ferns are adorable to many people for their foliage.
Some trees are present that can give you both foliage and flowering fragrance. If you want to have some like this, these sentences will be helpful. 
So, won't you think of at least one of them?