These are 11 Fuzzy plants with purple flowers-[with pictures]
Purple is one of the most common flower colors. It is essential to note that the purple color of flowers and other purple plant organs (like purple leaves and stems) is due to the pigment called anthocyanin.
Fuzzy plants bearing violet flowers have the highest demand among indoor growers. When most indoor plants go dormant, these plants never fail to amaze us with their blooms even during the cold season Apart from their aesthetic value, these plants have long been used as spices and medicine usually as herbal tea.
List of Fuzzy plants with purple flower
Identifying the fuzzy plants which have purple flower is confusing. I have done a little bit of research to get them. Hope this will help.
Here, I have tried to highlight some of them. So scroll down and find which one suits you most.
1. African violets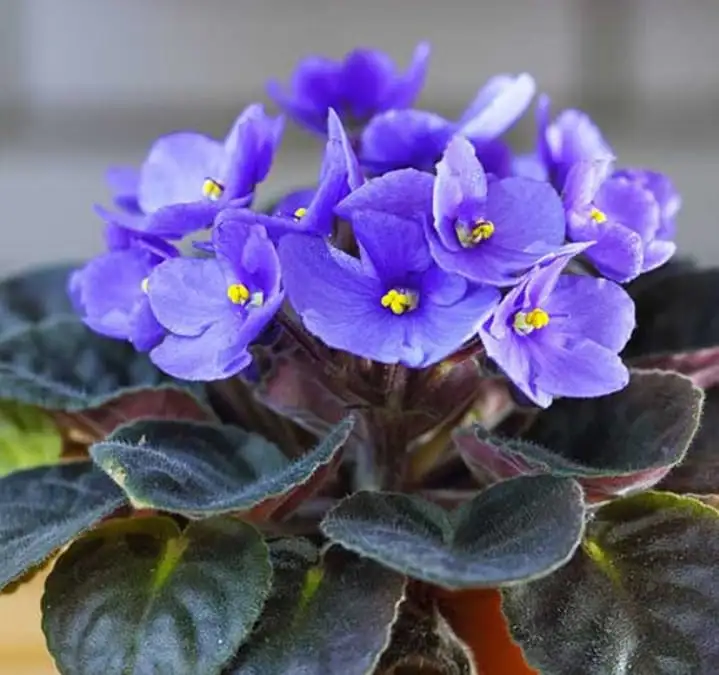 African violets are one of the most popular indoor-blooming plants (size varies from 8-16 inches) with their soft furred leaves and vibrantly colored miniature flowers, which easily fit in indoor conditions and can be kept on the desk or in other cozy places in your home. When other indoor plants go dormant, they offer their vivid, violet-colored flowers during the cold of February mostly known as February birth flowers.
Phosphorus fertilizer and slight rootbound condition encourage blooming
They require sunlight for a minimum of 8 hours.
2. Globe amaranth
Globe amaranth is an annual ornamental plant having fuzzy foliage. It grows 1-2 feet tall and about a foot wide with stiff, erect branched stems. It produces dark magenta color papery blooms which are the bracts of the flower, attracting pollinators. The true yellow flower remains inside the showy bracts.
Prefers sandy soil with pH 6.1 to 6.5
Seeds that are true to parents don't produce plants, suggested purchasing seeds from growers
3. Hyacinth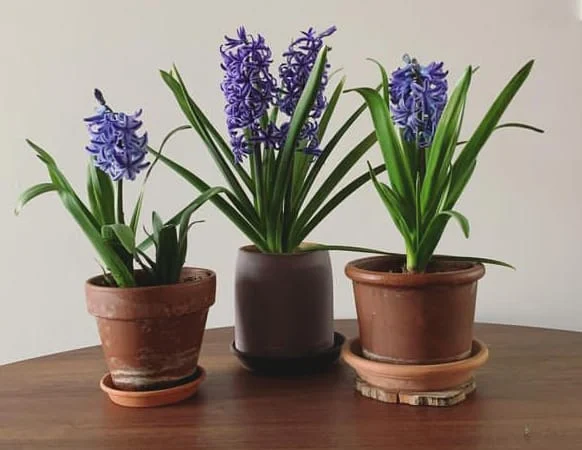 Hyacinths are bulbous herbs. They are popular spring ornamentals with pale blue/ violet flowers derived from the central leafless stem. It is known as nature's perfume for its incredible fragrance. Four to six leaves come out from the bulb which gives the plant a fuzzy appearance. 
Bulbs need to be pre-chilled  before planting (40-45°F for at least 12-14 weeks)
After finishing flowering, don't remove the foliage as the bulbs get energy from it
4. Gloxinia Plant
Gloxinia Plant is a gorgeous annual flowering plant with purple, blue, pink and sometimes red blooms. The small-sized (6-10 inches) plants produce beautiful, velvety bell-shaped flowers with single or double petals. The small oblong, serrated dark green leaves give the plants a bushy appearance. The plant may remind you of African violets!
Don't expose your plants to direct sunlight, it may reduce the lifespan
Preserve the tubers for getting the gorgeous blooming of Gloxinia in subsequent years.
5. African lily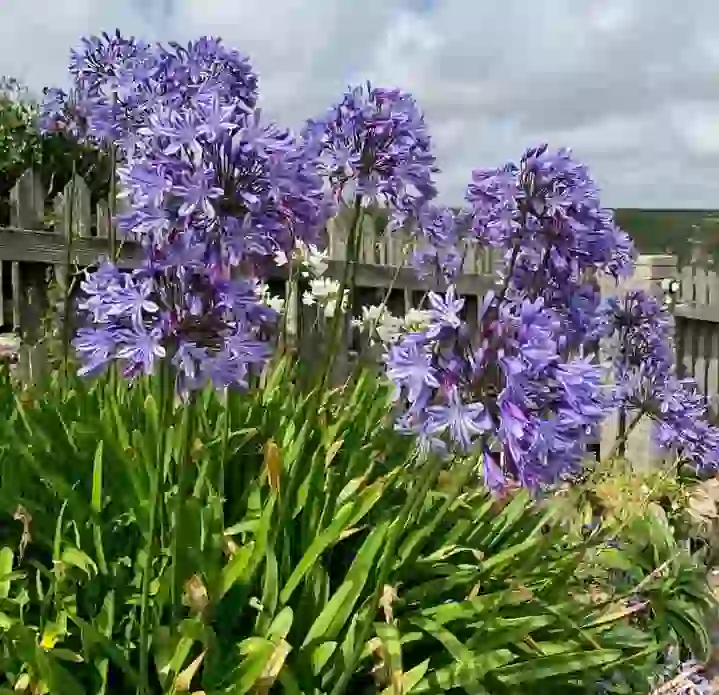 African lilies are evergreen, perennials with a showy rounded cluster of flowers. Flowers are produced in shades of blue, purple or white with a darker stripe down the center of each petal. Long, glossy tufts of strap-like arching leaves are produced on short stems and are 12-24 inches long and 1-2 inches wide. 
Locals thought it to be a miraculous plant and flowers are worn by females to boost their strength and fertility
6. Tradescantia
Tradescantia has earned its popularity throughout the world as houseplants as well as ground-covering (30–60 cm tall). Though tradescantias typically have purple foliage often variegated with silvers, greens, creams, even pinks and occasionally gold linings, many of the light-foliage varieties have dark purple undersides, which creates a dramatic effect. 
They are mostly grown for their foliage but often the foliage is graced with pink or purple-colored 3 petal blossoms
To get the best color, plant your Tradescantias in full sun
7. Anise Hyssop 
Anise Hyssop is an aromatic herb with a bushy structure and beautiful lavender spikes. Mature plants rise to 2-4 ft tall with a spread of an average of 3 ft. The oppositely arranged light green colored leaves may be tinged with purple in the spring. 
 The leaves have a refreshingly smell and taste (combination of anise, licorice and mint)
The nectar-filled flowers are also known as hummingbird mint as hummingbirds love to visit them
8. Bearded Irises
The bearded iris is undoubtedly the most popular among all irises for its easy-growing nature and beautiful flowers. The plant produces sword-shaped leaves from the rhizomes. Iris flowers are generally defined by a structure of three upright "standards" and three lower "falls" segments with varying colors like blue, purple, red, orange and many more. The plant produces sword-shaped leaves from the rhizomes.
Perfect fit for outdoor gardens 
Plants grown from rhizomes produce flowers in the second year
9. Bachelors Button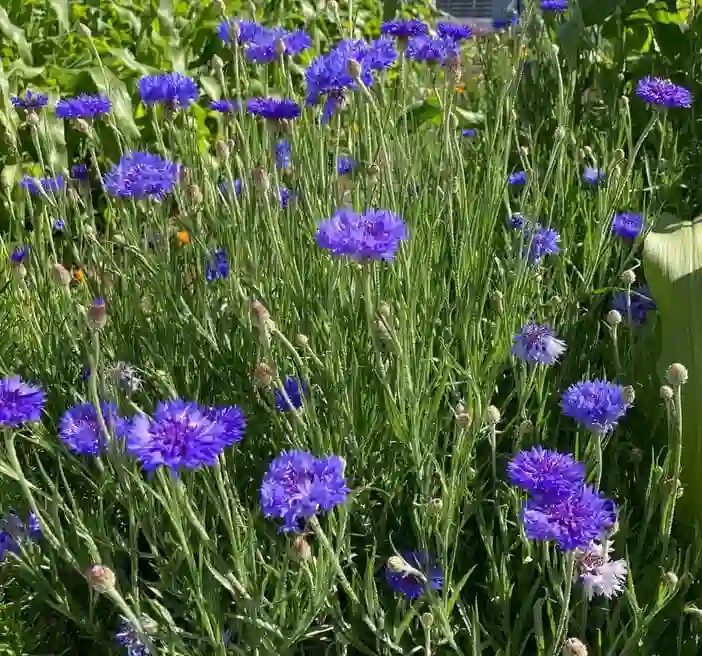 Bachelors Button is commonly known as cornflower or bluebottle; mostly used in landscaping. The showy flowers grow on multi-branching stems and come in many shades like pink, purple, and white. The mature plants may reach 2 to 3 feet. Closely planted cornflowers give a bushy appearance and prevent them from turning too leggy. 
Simply grows from seeds; thrives well in full sun condition
Flowers have food value; used in salad and dried flowers are used in tea blends.
10. Blue-Eyed Grass
Blue-Eyed Grass belongs to the iris family. Like most iris plants, it produces blade-shaped leaves that are relatively narrower. Leaves are grown from rhizomes that gradually spread outward, giving a glass-like appearance (not actual grass). It is named after its gorgeous blue-violet flowers which are produced in clusters with yellow eyes in the center. 
It may take two seasons to flower if grown from seeds
Maintain optimum plant spacing. Otherwise, it may affect flowering
11. Common blue violet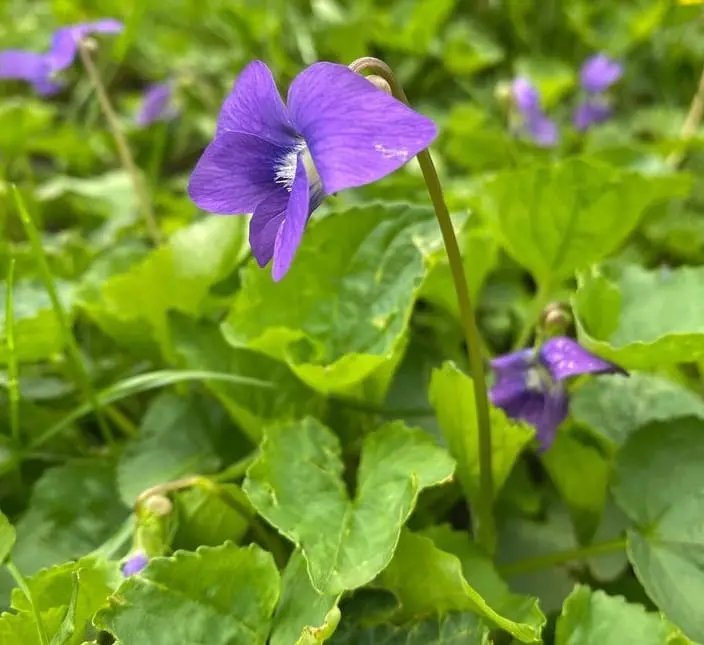 The Common blue violet (Viola sororia) is an attractive wildflower known for its blue to purplish-white blooms. This annual plant produces simple, heart-shaped deep-green leaves that may grow up to eight inches high. Its prolific growth habit sometimes tags it as "weeds". In addition to normal flowers, there are some flowers near the ground which fail to open, their fruit produces a vast quantity of seeds.
Flowers are edible, thus can be grown as indoors near pets
FAQ
What purple flower is the prettiest?
Verbena, from the family Verbenaceae, is considered the prettiest violet flower in the world. Believe it or not, purple is one of the most common flower colors, usually due to the presence of the chemical anthocyanin.
Verbena is also known as purple-top vervain. It is characterized by having a small purple five-petaled flowering plant. A cluster of small star-shaped flowers appears at the top of the plant the bushy plants are complemented by lanced-shaped deep green-colored leaves.
What is the rarest violet flower-bearing fuzzy plant?
Rare flowers are those that only bloom under specific conditions or are found in specific habitats under the right ecological conditions.
Gibraltar Campion nevertheless remains exceedingly rare in its natural habitats. This marvelous little beauty remains so rare that by 1992, experts believed it to be extinct. However, it was rediscovered in Gibraltar Rock in the United Kingdom. Presently, it holds an official status as an Endangered Species and appears on the IUCN Red List.
Which are the extinct violet flower-bearing fuzzy plants?
According to Royal Botanic Gardens in Kew, England, we've already lost 571 plant species since 1750. 
Cry violet is one of those extinct species. It was native to the cry region of  France and was first discovered in 1860. These species were restricted to the habitat of calcite-rich, rocky areas. Its distribution was restricted to the valleys of the Seine and Andelle Rivers. However, no one has spotted a cry violet there since 1927 and it's presumed extinct.
Which is the smallest among all violet plants?
The term viola is normally reserved for small-flowered annuals or perennials, including the wild species. 
Miniature African violets are the smallest among all the fuzzy violet flower-producing plants. They can be characterized by their basal leaf rosette which is only 3 to 6 inches in diameter.
Miniature African violets are further classified as micro-miniatures (less than 3 inches in diameter), semi-miniatures (6 to 8 inches), standard (8 to 16 inches) and large (over 16 inches)
Which fuzzy plant bears the giant violet flower?
Amorphophallus titanum, the titan arum, is a flowering plant in the family Araceae. It has the largest unbranched inflorescence in the world.
– The titan arum's inflorescence can reach over 3 m (10 ft) in height
– The leaf structure can reach up to 6 m (20 ft) tall and 5 m (16 ft) and bears only one leaf at a time
– Its corm is the largest known, typically weighing around 50 kg (110 lb)
Which is the most expensive violet flowering fuzzy plant?
In terms of the most expensive violet flowers, the Saffron crocus is at the top of the list. The bright red-orange threads you get when you buy saffron are actually the stigmas, or female portion, of the Saffron Crocus flowers. 
– Saffron is the most expensive spice in the world; Priced between €7 to €9 per gram for the highest quality saffron
– The unique climatic conditions needed to grow saffron are a reason for its cost
Final thought
Flowers come in a wide variety of colors; many of these colors bear huge symbolism and meanings. In particular, purple ones indicate nobility and elegance. Fuzzy plants bearing violet-colored flowers are good fits for both indoors and outdoors.
The most beautiful violet flower is verbena for its eye-catching five-petaled flowers
Where miniature African violets are the smallest whose size ranges from 3-6 inches
Gibraltar Campion remains exceedingly rare; only available in Gibraltar Rock in the United Kingdom
The most expensive viola is the Saffron crocus ( €7 to €9 per gram) which is grown for its stigma
Let us know in the comment section if you know more fuzzy plants with purple flowers. Also you can go through these types of interesting plants.
No Soil? No Problem! These 9 Plants Thrive Without soil—Unbelievable
Are These Plants from Another Planet? Meet the Rare 5-Leaf Wonders!